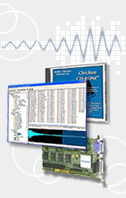 ---
Three Different Tools - One Common Goal
Native Universal Binary Mac OSX, and Windows 7/Vista/XP applications

Instrument Manager

Instrument Manager™ is designed to meet every real-world need related to instrument management with ANY software/hardware sampler. It supports practically all Instrument Files - software and hardware. Use as a Super-Browser, view your Instrument collection in four different views, with Instrument Managers™ "iTunes-ish" interface. Repair your bad sample links - and swap sample sets out with ease. Includes a powerful and quick database engine allowing you instant access to any group of sounds.

Constructor - Instrument Builder

Constructor™ is a generic multi-format, cross-platform Instrument Builder, allowing you to create any multisampled Instrument from scratch - using WAVE/AIFF or ANY pre-existing instrument OF ANY FORMAT. Then, you can save your Instruments directly into any format - software AND hardware!

Translator Mac Universal Binary

Translator Pro is now a true cross-platform Universal Binary Mac and Windows-compatible program.

Mac Version 5.9 is a huge improvement over the older version 1.5, as it offers MacTel support, much faster and streamlined operation, and a vastly expanded format list.
New for 2010 - Now Shipping!
Kontakt Assistant™
Kontakt Instrument & Sample Bulk Editing and Mangement Tool

Sampler Tools™
Translator, Constructor, and Instrument Manager with one interface and package
---
Akai, Roland, Emu, Ensoniq, Emu-Ensoniq, Kurzweil, EPS, 16-Plus, ASR-10/88, TS-10/12, ASR-X, Gigasampler, GigaStudio, Reality, SoundFont, EXS-24, HALion, Kontakt, Battery, Reaktor, MachFive, Project 5, VSamp, SamplerChan, VSampler, SampleTank, Project5, SFZ, and all logos are trademarks owned and licensed by their respective owners; registered in the United States indicated by ©, and numerous countries worldwide. All other trademarks are property of their owners.