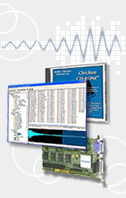 Please select a category from the list on the left.
Please report all downloading problems to us at Chicken Systems Support Center. Please take note of the byte count of the file you are downloading - if it does not match, you can expect problems due to file corruption from downloading.



Support


GigaStudio



The original GigaSampler changed the world, proclaiming "no more looping" - since it streamed samples directly from disk. Translator offers a complete set of source formats for use in your Giga machine.

More...
Format Support


Roland Fantom



Roland has created a powerful sampler/synth hybrid. With an unbelievable interface and great workstation abilities, the Fantom rocks! Translator adds value by allowing full conversion support, from Giga, EXS-24, Emu, Kurzweil, Akai, and much more.

More...