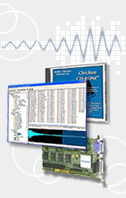 Please select a category from the list on the left.
Please report all downloading problems to us at Chicken Systems Support Center. Please take note of the byte count of the file you are downloading - if it does not match, you can expect problems due to file corruption from downloading.



Format Support


SoundFonts



SoundFonts are everywhere on the web, and they aren't just cheap sounds - most are fully programmed and sound great! With Translator, you can have access to these sounds and load them into your sampler, whether it "supports" it or not.

More...