Translator Pro


Overview


Details


Features


Tour


Screenshots


Forum


Format Status


Support

Downloads


Order


Special Editions


Translator Free


Beta-Tester Signup


CPS (Custom Programming Service)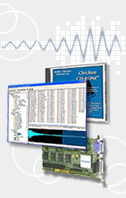 Sampler File Conversion and Sampler Tool
Platform: Win/Mac
Price: $149.95
Translator 6 converts professional sampler formats.
Take any sampler CD-ROM/disk and Translator 6 can convert one or any of its Programs, Instruments, or Samples - or the entire CD-ROM/disk - into another format that you can use directly with that sampler!
Program parameter information is translated, as well as the samples and structure. Wavedata, keymaps, looping, effects - EVERYTHING. No program translates better. Translator 6 pays attention to the small details, faithfully replicating your sounds.
Translator 6 is a cross platform application - comes in Universal Binary Mac OSX and Windows 7/Vista/XP-compatible flavors, and can translate practically every professional format, from Kontakt, EXS24, Giga3/GigaStudio, SFZ, Alchemy, Reason NN-XT, HALion, MachFive, SoundFont, SampleCell, Kurzweil, Ensoniq, Akai, Emu, Roland, and many more. This enables musicians to use practically any sound for their sampler, no matter what format it is in.
Translator 6 offers a huge amount of ancillary functions, such as special utilities of every sampler format. Of particular interest is the Reference Manager, which can relink and change the links to external samples from their program files. Other functions include Bulk Editing, the Loop Manager, Extend Key Ranges, merging, and much more.
Translator 6 also introduces multiple docking windows for excellent use of screen space. Also included is the new SimpleTranslation feature, where you simply drag a source file on the application Icon, and Translator automatically translates into your preferred format and location.
Now entering it's 14th year in product, Translator 6 is THE industry standard when it comes to professional instrument conversion software.






Mailing List


News is mailed weekly