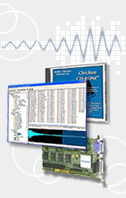 Download demo for EAVES™.




Support


GigaStudio



The original GigaSampler changed the world, proclaiming "no more looping" - since it streamed samples directly from disk. Translator offers a complete set of source formats for use in your Giga machine.

More...
Format Support


SoundFonts



SoundFonts are everywhere on the web, and they aren't just cheap sounds - most are fully programmed and sound great! With Translator, you can have access to these sounds and load them into your sampler, whether it "supports" it or not.

More...