Ensoniq MIDI-Disk Tools


Overview


Details


Features


Tour


Screenshots


Support


Downloads


Order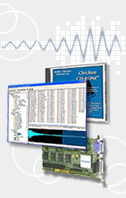 Ensoniq MIDI and Disk Utility software
Platform: Win
Price: $59.95
Are you tiring of your Ensoniq EPS/ASR's 22-character display? Or do you want to access your Ensoniq library, or expand it, using your computer?
Rubber Chicken Software's Ensoniq MIDI/Disk Tools for Windows editing software allows you to view everything that's going on inside the EPS/ASR and view what you're doing on your PC computer screen. Not only that, MIDI-Disk Tools gives you full disk control of your volumes - floppy or SCSI, Windows XP or Windows 98.
Ensoniq MIDI/Disk Tools for Windows main MIDI screen shows you the contents of what is in the memory of your Ensoniq at that point fo time. Click on a "instrument slot" and up comes the Instrument window, which shows you the Layers, Wavesamples, and Effects that are loaded. Click on a Layer, you get the Layer screen, allowing you to edit the Layer parameters. Click on a Wavesample, you get the Wavesample screen, allowing you to edit any of the Wavesample parameters. All in real-time, via MIDI.
You can run the Disk Tools section of the program and view and FULLY EDIT any Instrument or Sequence on a disk. You can import WAVE, AIFF, or SMF files into Ensoniq format, or vis-versa. There are plenty of right-click menus and drag-drop abilities for the most viable power user.
For running your EPS/ASR, for programming, for organization - even for little things like naming wavesamples and layers - Ensoniq MIDI/Disk Tools for Windows will help you work wonders with your EPS/ASR.



News
Translator and Roland Fantom

The new free Fantom Convertor has been released on www.rolandsamplers.org. It's a conversion app for the Fantom-series, and it's Translator with a custom skin! It converts Akai and Roland S-7x disks into Fantom format, and allows full editing support, something the Fantom interface doesn't do. More...
Products


Ensoniq MIDI-Disk Tools


Offers maximum control of your Ensoniq EPS or ASR-10 sampler. Includes MIDI control of parameters and reading, writing, and formatting of all Ensoniq storage media.

More...