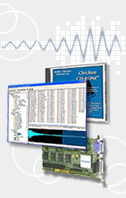 Waveboy effects aren't computer programs; rather, they are special Ensoniq files that you load in via floppy or SCSI, and become the Bank Effect. From there, you are free to attach the effects to individual instruments or Bank files.

This disk contains 16 algorithms which load into an EPS or ASR and redefine what the signal proce... More
Order Now: $39.95


The Voder effect is a bank of programmable filters that loads into the built-in effects processor... More
Order Now: $49.95


The REZ FILTER algorithm re-creates an analog synthesizer - inside the effects processor. A four-... More
Order Now: $39.95


Destroy audio. On purpose. Most effects try to make things sounda little better. WAVeBOY's newest... More
Order Now: $39.95


This is not a set of custom effect algorithms, but a set of sounds that have been specifically ma... More
Order Now: $69.95


Run audio through the EPS effects! Audio-In effects let you send external audio signals into the ... More
Order Now: $39.95


Your sampler becomes a high-end digital compressor, with this new Waveboy plug-in effect.

... More
Order Now:

$49.95




GET WITH THE BEAT! Delay times locked to the Sequencer Tempo! The TEMPO SYNCD DELAY effect lets y... More
Order Now: $49.95





Products


Waveboy Effects


Triple the power of your Ensoniq sampler. Waveboy effects are loadable effects that take over the effects processor, allowing more versatility and creativity.

More...
Format Support


Roland Fantom



Roland has created a powerful sampler/synth hybrid. With an unbelievable interface and great workstation abilities, the Fantom rocks! Translator adds value by allowing full conversion support, from Giga, EXS-24, Emu, Kurzweil, Akai, and much more.

More...